Motocaddy M5 GPS DHC Electric Trolley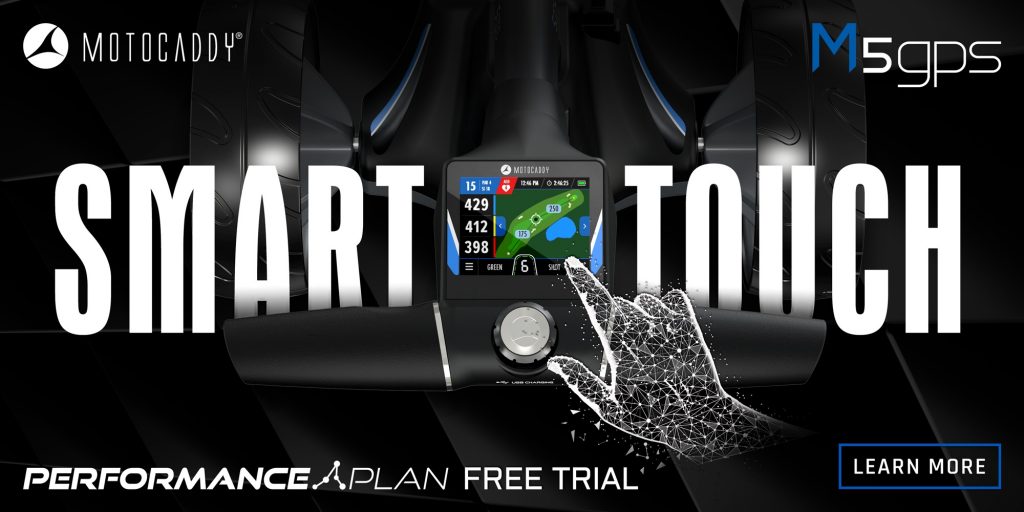 Includes a FREE Motocaddy Accessory
Power at your fingertips
The award-winning M5 GPS DHC offers fully‑integrated GPS built into a super-responsive 3.5" touchscreen display. Boasting 40,000 pre-loaded courses with distances to the front, middle, and back of the green, essential hazard information, and the ability to dynamically move the flag position, the M5 GPS DHC is the pinnacle of electric golf trolley technology.
The M5 GPS DHC is also packed with other game-enhancing features including a clock, round timer, and score tracking, plus the par and stroke index of each hole, shot distance measurement, automatic hole advancement, and a battery meter.
Life-saving capability
Offering the potential to save lives, the M5 GPS DHC can also indicate the availability and location of on-course AEDs and provide golfers with CPR instructions to administer to anyone suffering a cardiac arrest. The feature has been proudly supported by Heart Research UK, with over 700 golf clubs across the UK now registered.
Smart Connectivity
The M5 GPS DHC can also be connected via Bluetooth to the free Motocaddy GPS app to offer a wide range of smartphone notifications including missed calls, texts, emails, and a range of app alerts, including WhatsApp and Facebook. In another industry first, the trolley also offers built-in WiFi for super-fast Over‑the‑Air course and system updates.
Downhill Control Technology
Established over a decade ago, Downhill Control (DHC) has undergone extensive development and refinement since its creation. The game-changing technology is now considered an essential feature for thousands of golfers across the globe.
DHC ensures the trolley maintains a constant speed while moving down a gradient, helping golfers stay in complete control around even the most undulating golf courses. The award-winning feature is now bolstered by the integration of all-terrain wheels and an electronic parking brake, perfect for planting the trolley on an uphill or downhill slope.
Free Next Day Delivery to N. Ireland and ROI
Prices
Standard Lithium: £999.00
Ultra Lithium: £1049.00
Trade-in Discount Available